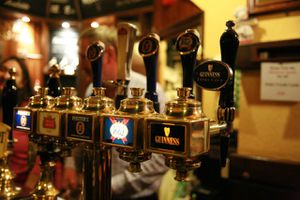 Montreal has one of the best dart bar scenes on the planet, with a variety of establishments that cater to every taste. Looking to try darts for the first time and/or interested to learn the darts technique? Watch the game and yell at the TV? Or just hoping to find a quiet place to enjoy a simple meal? However you want to unwind, the bars of Montreal are at your service. For playing darts, the following places are, without question, some of the best in Montreal, if not the world.
1. Bily Kun
Ostrich heads mounted on the wall? Check. The best absinthe selection in Montreal? Check. A wide array of live music spanning everything from Jazz to House? Check and check.
Bily Kun is a great bar with a unique atmosphere, a killer drinks list, tasty sandwiches and small bites and more than a few electronic dart boards setup at the correct dart board specs . A complete range of steel tip darts are available to borrow in case you left your at home. Taking its name from the Czech for "White Horse", Bily Kun is the sort of bar with an eclectic clientele that makes for great people watching. Going to Montreal and skipping Bily Kun makes as much sense as going to Dublin and skipping The Temple Bar (though of course Bily Kun is much less of a tourist trap.)
2. Dieu du Ciel
Arguably the best microbrewery in Montreal, Dieu du Ciel's brewpub offers up the freshest offerings, as well as storytelling nights and other special events such as dart competitions. The bar's got a gorgeous vibe, almost like Fin de siècle Paris. The inventive beer recipes rival American craft brewers like Dogfish Head, making this brewpub a must for any beer drinker who likes their brews a little left of center, as do most dart players.
3. McKibbin's Irish Pub
There are actually three McKibbin's locations in Montreal: West Island (actually in Pointe-Claire, not MTL proper), The Main, and Downtown. All locations are bustling and casual, with pool and darts to enjoy while you chow down on traditional Irish pub grub.